Specifications:
2,050 Sq Ft
3 Beds
2 Baths
2 Stories
3 Cars
Hey there, house hunters and dream-home planners! Are you ready to dive into a world where farmhouse charm meets modern living? Buckle up, because I've got a treat for you – a 2,050-square-foot barndominium-style house plan that is sure to knock your socks off.
Now, I know what you're thinking: "What on earth is a barndominium?" Don't worry, I was just as puzzled when I first heard the term, but trust me, it's as cool as it sounds. It's a portmanteau of the words 'barn' and 'condominium', and it's exactly what it sounds like – a barn converted into a home.
But this isn't just any barn; this is a barndominium with a farmhouse twist, and it's oozing with charm from every corner.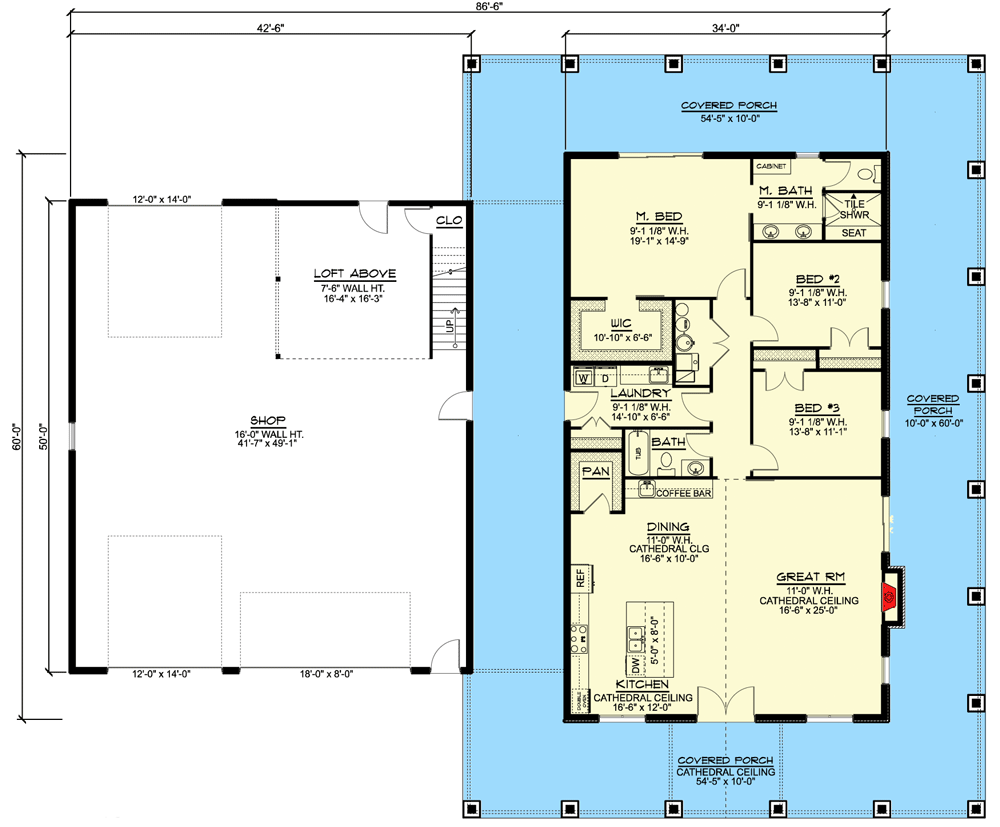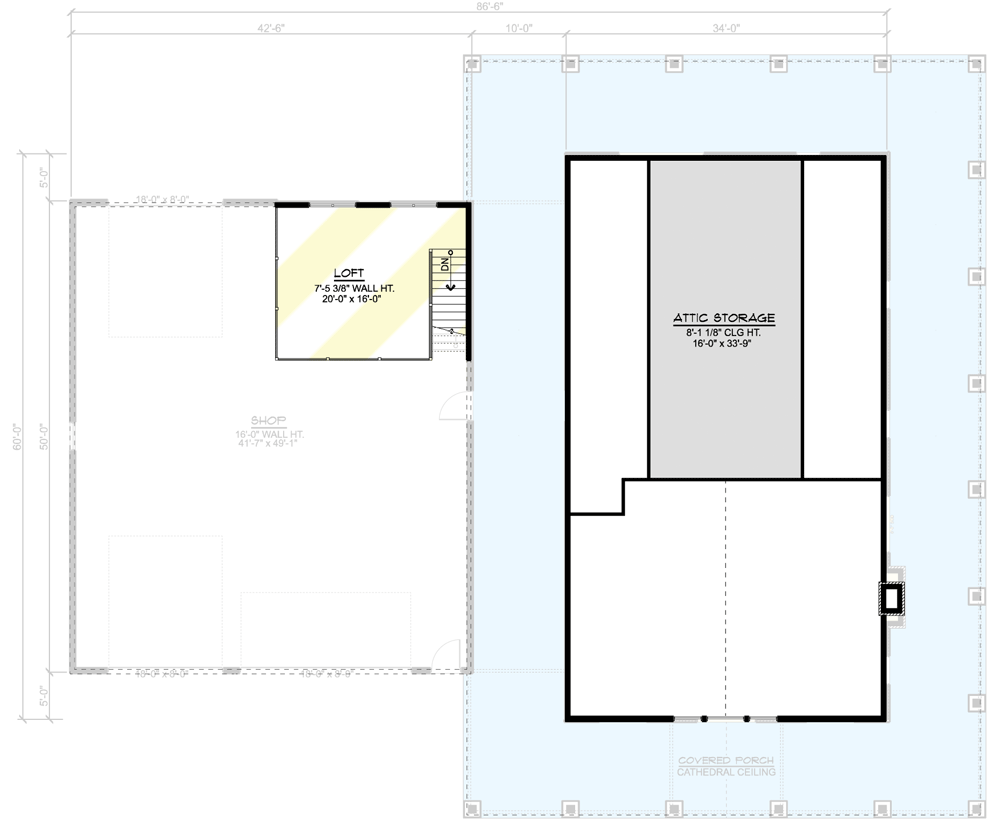 Now, let's get down to the nitty-gritty and talk about this beauty. It sprawls across 2,050 square feet, providing ample space for a 3-bedroom layout.
And with two bathrooms, there's no need for morning squabbles about who gets to brush their teeth first.
This two-story wonder has enough room to accommodate a family, entertain guests, and even leave some space for your personal hideaway.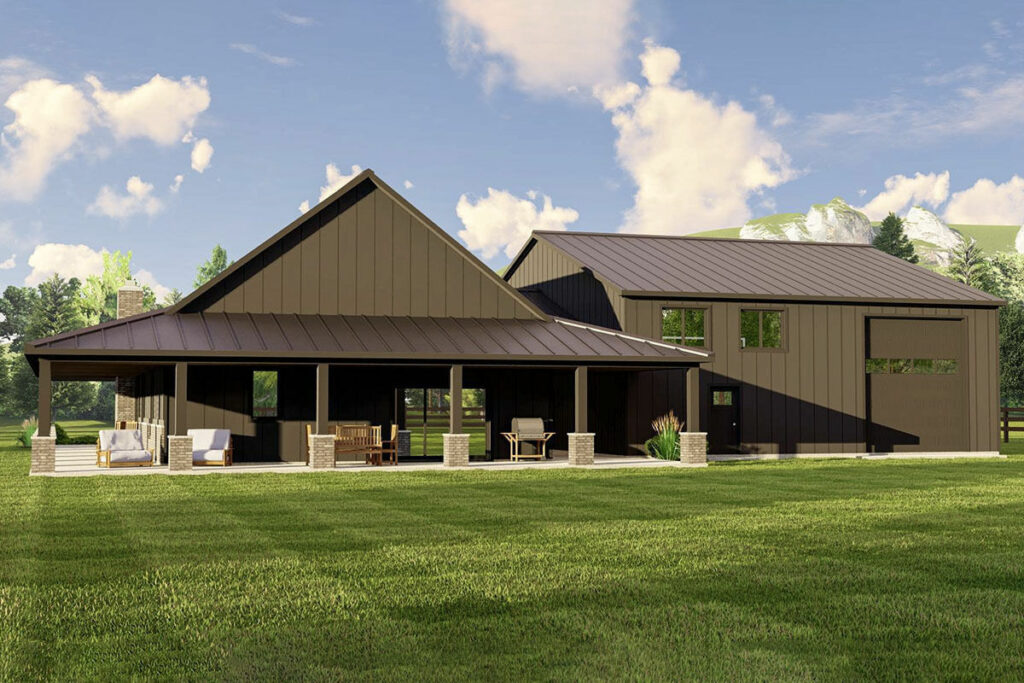 And, just when you think it can't get any better, it comes with a 3-car garage. Yes, you read that right – three whole cars! So, if you've got a collection of vintage cars or just a bunch of junk that needs storing, we've got you covered.
Now, let's talk about the heart of this home – the wraparound porch. This isn't just any porch; it's a full 4-sided wonder that invites you to kick back, relax, and enjoy the view from every angle.
Picture yourself sipping on sweet tea (or a glass of wine, I don't judge) while the sun sets, casting a warm glow over your new dream home.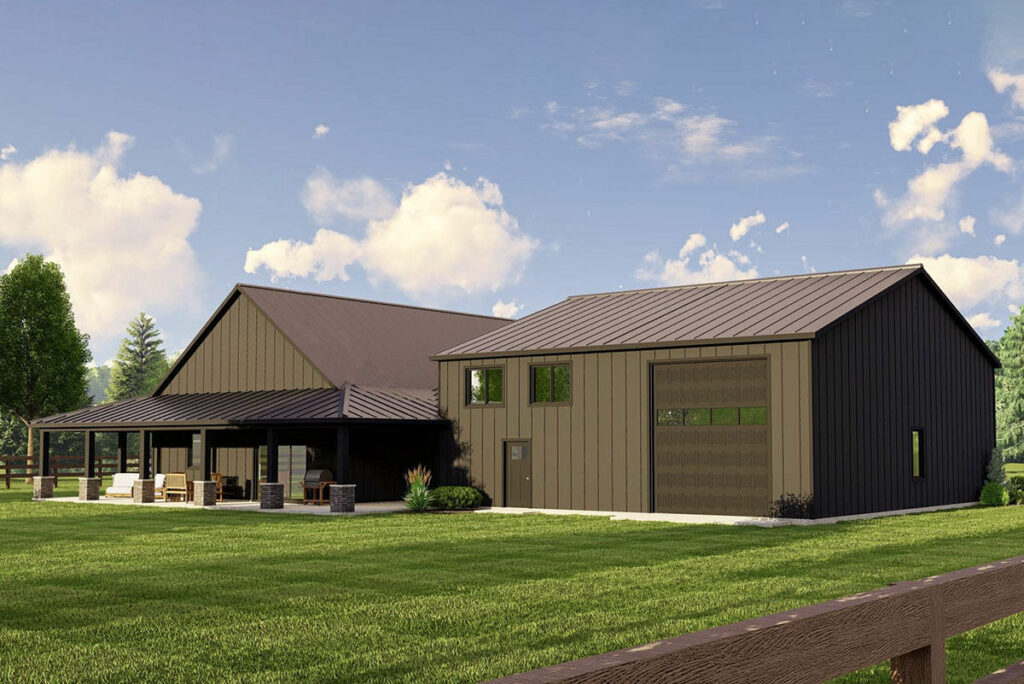 And with French doors leading straight into the great room, you're just a step away from comfort.
Speaking of the great room, let's wander inside, shall we? As soon as you step through those French doors, you'll find yourself in a combined great room, kitchen, and dining area, all underneath a stunning cathedral ceiling.
The fireplace adds a touch of coziness, making it the perfect spot to cuddle up with a good book or binge-watch your favorite series.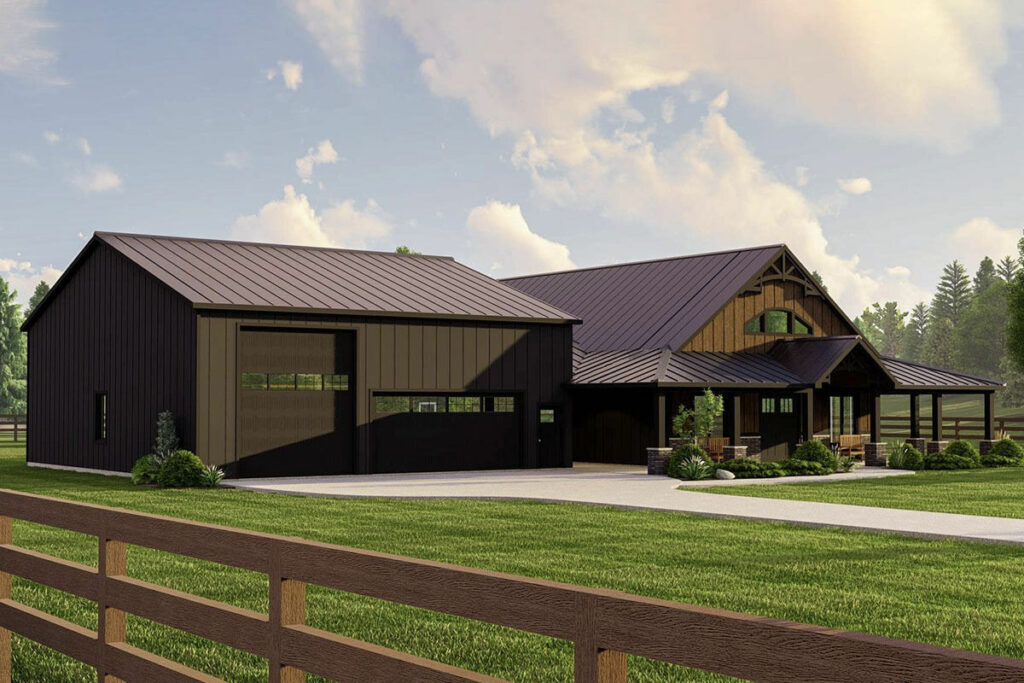 And for all you foodies out there, the kitchen is a dream come true, featuring a whopping 5′ by 8′ island and a coffee bar. I mean, who wouldn't want their very own coffee bar?
Now, let's venture to the right side of the house, where you'll find two spacious bedrooms, perfect for kids, guests, or even a home office – the possibilities are endless.
Across the hall, there's a full bath and a laundry room with porch access, because who doesn't want to do laundry with a view?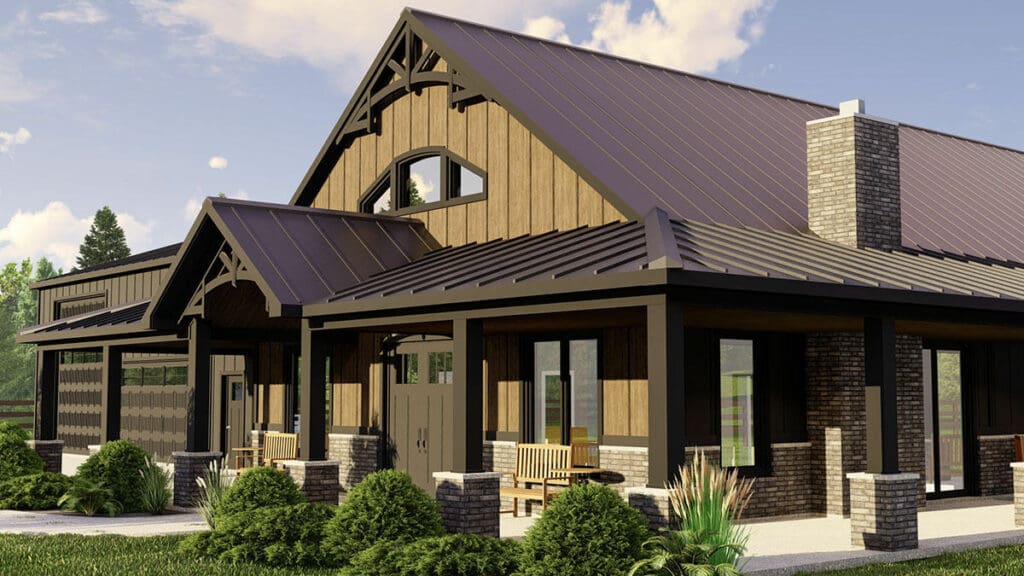 Now, for the pièce de résistance – the master bedroom. Tucked away at the rear of the house, this sanctuary includes a 4-fixture bathroom and a walk-in closet that's big enough to get lost in.
It's the perfect retreat after a long day, and it's all yours.
But wait, there's more! Remember that 3-car garage I mentioned earlier? Well, it's not just a garage; it's a massive 2,125-square-foot garage shop, complete with an RV bay with drive-through capability and a separate 2-car bay.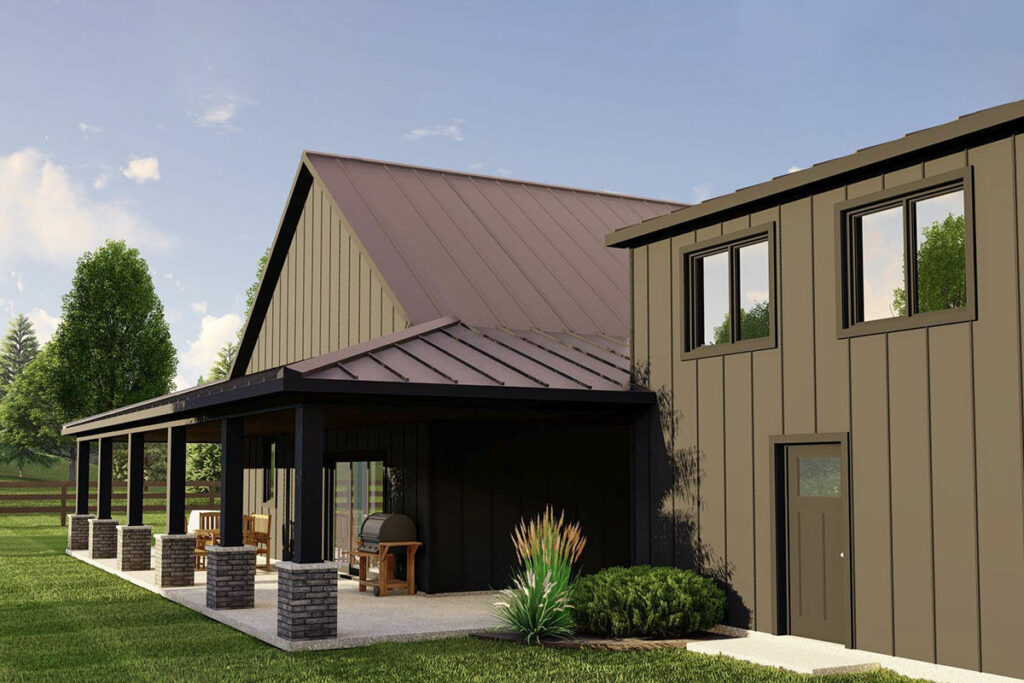 And just when you think it can't get any better, there's a stairway leading to a 299-square-foot loft that can be transformed into an office, a man cave, or just extra storage space. The possibilities are endless!
Now, let's talk about the exterior. The house is spec'd for corrugated metal siding, giving it a rustic yet modern vibe. It's like Chip and Joanna Gaines came over and worked their magic on your very own home.
It's the perfect blend of farmhouse charm and modern living, and it's all wrapped up in this stunning barndominium-style package.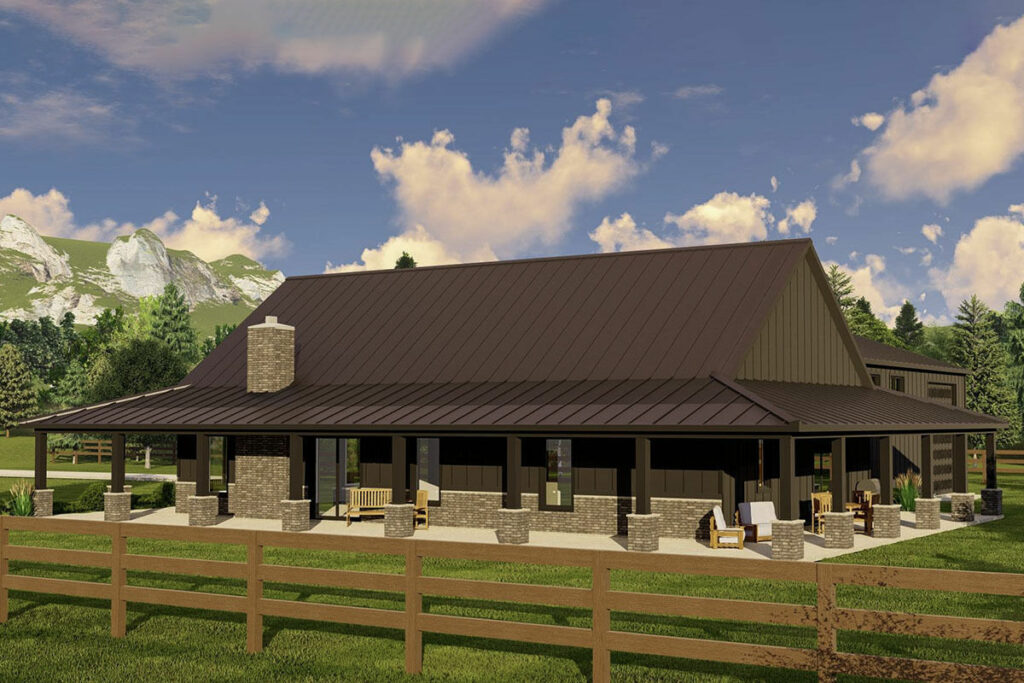 So, there you have it – a 2,050-square-foot barndominium-style house plan that's as charming as it is functional.
Whether you're looking to settle down with your family, entertain guests, or just enjoy some peace and quiet, this house has everything you need and more. So, what are you waiting for? Let's turn this dream into a reality and make this house your home.