Specifications:
3,597 Sq Ft
4-5 Beds
5.5 Baths
2 Stories
3 Cars
We've all dreamt of that perfect house – spacious yet cozy, modern yet rustic.
But did you ever imagine having a farmhouse that's like the Taj Mahal of farmhouses?
Say hello to the newest and largest member of the best-selling farmhouse collection – all wrapped up in a tidy 3,597 sq ft package. Oh, and guess what?
It's got room for a family and that inevitable friend who's "just crashing for a couple of days."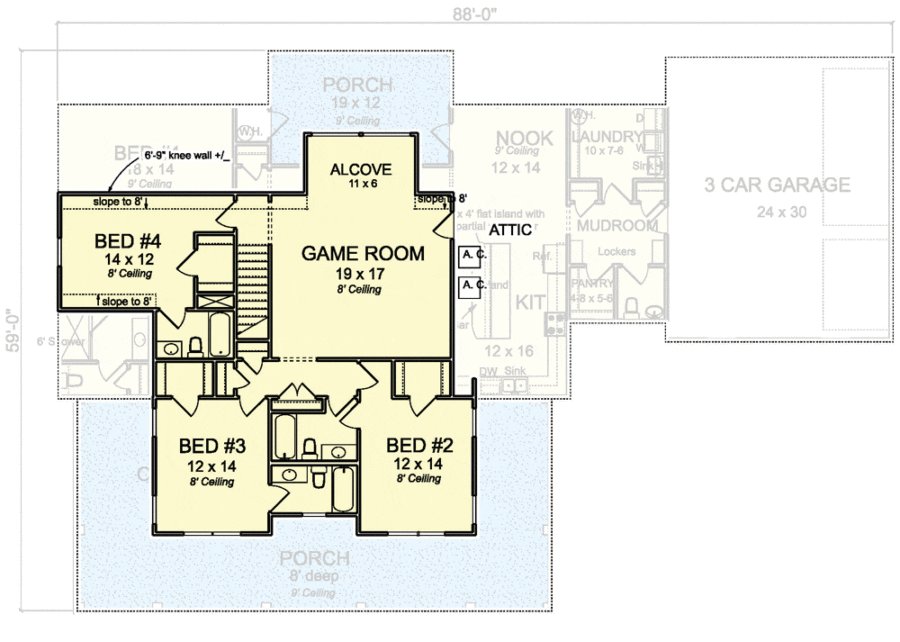 It starts with an 8′-deep front porch, which is perfect for morning coffee or evening cocktails. And let's face it, it also screams, "Look at me, I'm the classy, modern version of Old MacDonald!" But why stop at the front?
This house takes you on a journey around with a porch that wraps itself like a comfy blanket. At the back, there's another porch – measuring 19′ by 12′. Just think about those barbecue nights while enjoying the serene views.
When you walk in, you're greeted by a foyer that's flanked on one side by a study – perfect for pretending to write that novel you've been talking about.
On the other side, there's the dining room. Both rooms have that 9' ceiling. Which, let's be honest, makes jumping to conclusions a tad bit harder (but much classier).
The dining room, living room, nook, and kitchen are like best friends in high school – inseparable and always in sync. Speaking of the living room, there's a ventless gas fireplace to snuggle up by. It's not just a fireplace; it's a statement, a centerpiece, the Beyoncé of the living room!
For those who think luxury = privacy (and who doesn't?), the main bedroom has got you covered. Tucked away like a secret, it boasts a five-fixture bath. Not to forget, a walk-in closet so roomy, your clothes might need to sign a lease to live there.
On the other side, for the ones in the family who mistake the house for a laundry service, there's an actual laundry room, adjacent to a walk-in pantry.
And then there's the mudroom with built-in lockers and a powder room. Remember those muddy football cleats or those rainy days? Well, worry no more about the mess!
Let's not forget about the upstairs, where the fun really begins. Three ensuite bedrooms that scream comfort. And as the cherry on this farmhouse sundae – a game room.
Whether you're thinking of turning it into an arcade, a mini-cinema, or just a place to hide from the kids (or vice versa), it's got potential written all over it.
This modern farmhouse is more than just a house; it's a statement. It's for those who want the comfort of the countryside but aren't ready to give up on modern luxury. Four to five bedrooms mean you've got space for everyone – including that friend who always overstays.
And let's not even get started on the three-car garage. I mean, why ride horses when you can park cars, right?
So, whether you're a modern family with a penchant for rustic charm or someone looking to live out their farmhouse fantasy, this house has got something for everyone. Just remember to invite me over for the housewarming party!
Plan 52304WM